About Us
Kama'aina United to Protect the 'Aina (KUPA)
Friends of Ho'okena Beach Park (FOHBP)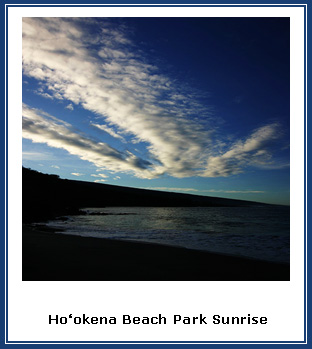 KUPA/FOHBP is a Non-Profit 501(C)(3) Community Organization focused on the preservation of cultural and natural resources and culturally sensitive economic development in Ho'okena.
Ho'okena was a favorite place for Queen Liliuokalani who once said that she loved it because it was a village that was home to so many of her beloved Hawaiian people. At that time Hookena was populated predominantly by native Hawaiians. The harbor was the heart of the village and many people would come to the landing to meet, talk story, or wait for the ships to come in with visitors. The village was large with hundreds of people and a number or stores, bakeries, a post office, courthouse, fish market, and a pier where steamer ships would arrive weekly bringing much needed goods. Cattle were tied up along the side of the rowboats and they would swim out to the big ships where a crane would haul them on board. The cattle were to be taken to Honolulu along with other goods such as coffee and produce that was grown in Kona. Ho'okena continued to grow and in the 1890's the Chinese started to move into the village. Chinese were issued permits for cake peddling, selling food, merchandise, retail store, and pork butcher. The pier was named after the man who built it - Henry Cooper. His name was "Hawaiianized" to Kupa, hence the name Kupa Landing.
Kama'aina United to Protect the 'Aina (KUPA)
KUPA was created by community members in 1996 concerned about the aquarium fish collectors operating in waters fronting Ho'okena Village. Legislation was passed to establish Fish Management Areas through the efforts of this organization to prohibit the capture of tropical fish for aquarium collecting.
Friends of Ho'okena Beach Park (FOHBP)
In May 2007, KUPA established KUPA FOHBP upon signing an agreement with the Country of Hawai'i to co-manage the park. Through the University of Hawai'i at Hilo and the Hawai'i Small Business Development Network, KUPA FOHBP received Department of Housing & Urban Development (HUD) Alaska Native/Native Hawaiian Institutions Serving Communities (AN/NHIAC) funds to develop a community microenterprise. The agreement required that KUPA FOHBP use microenterprise revenues to maintain the park. FOHBP has hired community members to maintain the park and provide park security via the "Ho'okena Beach Patrol".
TODAY, HO'OKENA BEACH PARK IS ONCE AGAIN ONE OF THE MOST BEAUTIFUL BEACHES ON OUR ISLAND. WE GLADLY SHARE WHAT WAS ONCE AN ANCIENT FISHING VILLAGE. BUT WE WANT VISITORS TO KNOW THAT THIS REMAINS A HAWAIIAN PLACE. OUR FISHING CANOES CONTINUE TO LINE THE BEACH. THEY ARE A PROUD SYMBOL OF OUR ANCESTRAL CONNECTIONS.
KUPA FOHBP Current Projects HANAI OPELU KOA Project
The Ho'okena 'Opelu Project was started by the community with a grant from Conservation International and OHA (Office of Hawaiian Affairs) to preserve its Hawaiian cultural heritage of fishing in which they care for the 'opelu (mackerel scad) by feeding them for 2-3 months out of the year with palu (vegetable based chum) to allow the fish population to recover. Data is also being collected on the size of schools, size of 'opelu and ocean conditions to gage the effectiveness of the program and for research purposes.
The project will work on passing on the fishing culture to the next generation in a sustainable way by intertwining modern technology with traditional fishing practices.
The Hawaiian fishermen perpetuate the traditional method of fishing & caring for 'opelu. With an emphasis put on hanai (to feed or take care of), maintaining a healthy opelu population is the priority.
PROTECTING THE NAI'A (Hawaiian Spinner Dolphins)
Working with the National Oceanographic and Atmospheric Administration (NOAA) to protect resting nai'a, KUPA assisted with research into the effects of human-dolphin interaction and the impact it has on dolphin populations. Now working with NOAA, DLNR DOCARE, West Hawai'i Fisheries Council and other communities to support adoption of a 50 yard non approach rule, educate swimmers about the nai'a and stricter enforcement of the Marine Mammal Protection Act through greater presence and outreach of NOAA and DLNR officers and personnel.
ANNUAL OUTRIGGER CANOE ONO FISHING TOURNAMENT
Ono is the Hawaiian name of a type of fish also known as mackerel and wahoo. This unique tournament has been held annually for 34 years featuring the outrigger canoes that line the beach used for generations by lineal descendant of Kupa o ka 'aina o Ho'okena (natives/long time residents of Ho'okena).
ANNUAL KEIKI FISHING TOURNAMENT
A major community event that was started in 2015 to bring families of the community together to teach keiki (children) pono (righteous) practices when it comes to fishing such as "Eat what you catch, don't waste".